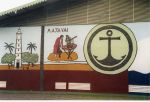 In most of the Polynesian islands, an annual event commemorates the arrival of the first (generally Protestant) missionaries. People dance, sing and re-enact the original scene, when European missionaries or Polynesian "teachers" – notably those from the Society Islands – on one side, and the local populations on the other side, met together. Thus in French Polynesia, March 5 – a public holiday – is officially the day of "Gospel's arrival", commemorating the arrival in 1797 of the Duff, a sailing ship chartered by the London Missionary Society. In addition to this Tahitian date, many islands celebrate the landing of Christianity on their own shores. The performance often includes many comic relieves, with actors dressed in Western 19st century suits and wearing top-hats miming wild-eyed British missionaries facing new languages and customs.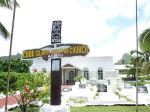 It may be in the Cook Islands, a tiny Polynesian State (in free association with New Zealand) located west of French Polynesia, that this annual performance is the more high-colored. Here too, each island used to have its own commemoration day, for example July 25 on the main island, Rarotonga. But on this island, the biggest event is now hold on October 26 and commemorates the arrival of missionaries led by the Rev. John Williams in the island of Aitutaki on October 26th 1821. It's a national celebration: "the National Gospel Day". At this occasion, the six parishes of the Cook Island Christian Church (the Protestant Church stemming from this missionary history) prepare religious dramas – Nuku in local tongue. These nuku not only re-enact the October 26 event, but also show some significant events of recent history: in 2007, spectators could even watch a local version of the suicide aircraft attacks on The World Trade Center! Until the 1990s, it was a competition between the parishes, then the competitive side of things was dropped. Today, even if this no more a matter of official competition, parishes still compete on imagination. The website Rarolens, which regularly posts video chronicles of daily life

in Rarotonga, had the great idea to post video extracts of the 2007 and 2008 Rarotongan Nuku. So here is the 2007 edition, introduced by a brief historical overview of Christianity in the Cook Islands. If you want to watch the 2008 edition too, just click here.
* This note was revised and completed on February 15th 2009 thanks to the precisions given by Wendy Evans.